Greetings,
As we prepared to leave Corfu and head for Italy, we contemplated many options for the ferry journey. We ended up deciding on heading to Bari, and the only ferry option was a night ferry which left twice a week. To make things worse, the next one was that same evening, and it was already late morning and we hadn't checked out yet. We frantically ran back to our hotel and were able to check out just in time to avoid being charged an extra night.
With all of the ferry trips between the Greek islands, we had yet to rent a cabin, so we decided to splurge for this trip. Our cabin was small, but very comfortable, and it even had an attached toilet and shower which was one of the best showers we had tried for weeks. We were given at least 3 different scheduled arrival times for the ferry by various ticket agencies and crew members, varying by about 3 hours. Or course, we were counting on the latest one being the most accurate. However, rather early in the morning, a crew-member knocked on the door and announced that we had arrived already! It was on the early end of the predicted arrival times, so we panicked a bit and quickly packed up and headed out to disembark from the boat. As we were trying to find the exit, all the windows we could see showed only ocean, so we began to wonder where we really were. We went into the waiting room, and the boat appeared to be either anchored or adrift ... we definitely weren't moving. The other passengers didn't seem concerned, and we sat and read books for about three hours until the boat finally started moving again and pulled into the port town of Bari.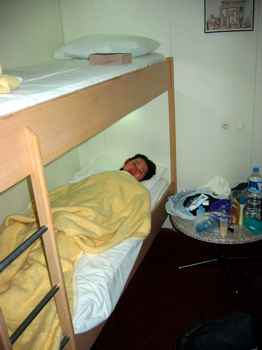 Getting ready for bed on our ferry ride from Corfu in Greece to Bari in Italy.
Bari wasn't a terribly pretty town, so we just quickly walked to the train station and hopped on a very crowded commuter train to the UNESCO world heritage site at the town of Matera. Matera is famous for its dwellings where the inhabitants lived in natural caves (or in some cases even hewed out their own) right up until after World War II. At that point, the Italian government helped provide better accommodations for the inhabitants, and bought up and closed down the cave houses.
| | |
| --- | --- |
| | |
| A cheese shop in Matera. | Sample Matera "cave dwelling". |
We had read about how horrible the living conditions were for these poor people that had to live in caves, so we were rather surprised when we first walked around. The people didn't all live in caves, and the caves were intermixed with a lot of grand apartments around that looked rather luxurious. In addition, we visited one of the caves that had been restored for visitors to see what they looked like. While it must not have been very sanitary to have the farm animals in the same living area as the people (including chickens and horses), the caves were fairly well developed. There was a kitchen with a gas stove, sleeping section, lots of furniture, and beds to sleep on. However, when you read the statistics, the caves couldn't have all been as nice as this one seemed. For instance, the infant mortality rate was almost 50%.
| | |
| --- | --- |
| | |
| Old Matera with its cave dwellings. | More cave dwellings. |
As this was our first city in Italy, we were still just enjoying being in Italy ... we didn't need any tourist attractions. A fun experience was to just head to a local bar and indulge in our morning cappuccino and cornetto (similar to a French croissant). Italian bars make 80% of their profits from coffee drinks which are slammed back while standing at the bar. They are very reasonably priced as the bars make their money from the constant flow of customers in and out of the bar. There is often a line up, so when you finally make your way to the bar, you feel heavy pressure from those behind you to choke back your pastry, guzzle your drink, and make room for the next customer. That being said, we really looked forward to our morning breakfast routine.
On our first night in Italy, a very thick fog had rolled in and we decided to head out for a walk around town. As we reached the first piazza, we noticed a large number of people mulling about. They were mostly elderly men dressed impeccably in suits and hats, and it was almost spooky watching them all stroll into and out of the fog ... almost like ghosts from the past. There were so many people walking about that we figured something must be going on. We sat and watched for about 15 minutes or so, but the people didn't seem in a rush to go anywhere and we decided that it must just be their evening walk.
On Saturday and Sunday evening, the event was a lot more intense. During the afternoon, the center of town was completely deserted. However, starting around 6pm, the town started to come alive. Again, we decided to just grab a seat and watch it all unfold. This time, it wasn't just limited to elderly men. People from teenagers up through their grandparents all put on their best clothes and began to stroll around. Women in high heels and Max Mara dresses were walking their dogs, young boys strutted in their soccer uniforms, and groups of high school boys and girls giggled and taunted each other. However, most interesting to us were the very short elderly men who seemed to wander around in packs and often with one man that acted like their ringleader. The ringleader was typically dressed in a old-style suit complete with a long trenchcoat flowing behind him and a cap positioned confidently on his head. As he waved his hands around and told stories that made the rest of his pack laugh, I couldn't help but conjure up images of a local "miniature" godfather.
By now the piazza was completely packed and the people in it were not standing around as they did the night before, but definitely seemed to be moving in one direction or another. We decided to follow one group of people to see exactly where they were headed to. We walked along one piazza, down a pedestrian lane, through another piazza, and then to a wider street that seemed to have a lot less people. It was a bit hard not to look like we were following them as they were walking so slow it was difficult to train our feet to walk at the same pace. The moment we reached the point where the people started thinning out, the people we were following turned around so quickly that they almost ran right into us.
We learned that the Italian word for this is "passeggiata", and it is where people get dressed up and go out for an evening stroll. There were so many people that Hitomi couldn't believe that this was a normal occurrence, and wanted to ask the young man at our hotel if there was anything special going on. He spoke about as much English as we speak Italian, so I was expecting this to be a difficult thing to communicate. However, he immediately figured out what we were trying to ask, and laughed and said that it was like that every weekend.
| | |
| --- | --- |
| | |
| Evening "passeggiata" in a thick fog. | Evening "passeggiata". |
From Matera, we decided to head down to Sicily. We took a bus to the coast and then hopped on a train that went down to a town called "Reggio di Calabria" which is one of the southernmost towns in continental Italy and has views across the sea to the coast of Sicily. The town itself was unremarkable, so we spent just one night there before heading across the strait hoping to make it to the town of Taormina. When we inquired at the train station about the options for getting there, the man at the information office mentioned something about a strike and said there was only one ferry leaving for Sicily and it left at 6:30am. We didn't want to get up at such an early hour, so we decided to take our chances and hope that he was only referring to the ferries run by the rail company. This was indeed the case, and we were able to get on a ferry at 11am that headed to the Sicilian town of Messina.
However, as the strike would be affecting train and bus services in Sicily as well, we were worried about the rest of the journey. Messina was not described in very glowing words in our guidebook, and it had no map and little information about places to stay. When we arrived at the port of Messina, we stumbled our way around until we eventually found a very deserted bus station. One bus company's office was completely closed down, and another said that there was a single bus for Taormina today at 2pm. She didn't seem to think that I would want to take it however, as she emphatically pointed out that there would be no way to get back today. I repeated several times that I understood and that we didn't have a problem with this, and she eventually sold me a pair of tickets. We had two hours to kill, so we bought some snacks and had a picnic lunch in a local park. We were enjoying the nice weather and reading books when Hitomi suggested that we head to the bus station. I was reluctant as it was still a half hour before the bus left, and the park was much more pleasant than the bus station which was right around the corner. However, we headed off and found an almost full bus already waiting at the platform. We put our bags in the baggage compartment, and then boarded the bus ... just as it closed its doors and left the station. 20 minutes early!!!
| | |
| --- | --- |
| | |
| Greek theater in Taormina, Sicily. | Sunset in Taormina. |
On arrival in Taormina, we had to figure out where to stay. I learned how much you can grow to depend on guidebooks when I cursed the fact that the Lonely Planet book had no map. Taormina is a relatively large town with its typical medieval roads which resemble a big plate of spaghetti. Hitomi waited on a park bench with our bags while I dodged the tour groups trying to find a hotel with a vacancy. I walked around for about 15 minutes and couldn't find any of the hotels in the guidebook, nor could I find any reasonably priced hotels with a vacancy, period. I was just about to head back to Hitomi with my status when I noticed a small set of stairs with a sign at the top that said rooms in four different languages.
Taormina was almost a bit of a shock for us as we were amazed by the masses of tourists. I'm sure that tourists outnumbered locals at least 10 to 1. In Matera, on the other hand, we never saw another non-Italian tourist during three days there.

Another view of Taormina's Greek theater.
Taormina is a very pretty and well preserved village up on the cliffs overlooking the Ionian Sea and with views of Mount Etna in the background. It was once a major town of Ancient Greece, and its reminder of past times is a well preserved Greek / Roman theater which was right around the corner from our hotel. Since it was Italian Culture Week, entrance into the theater was free, and we could wander in and out at will enjoying the views from different times during the day.
| | |
| --- | --- |
| | |
| Sampling sea urchin in Taormina. | A marzipan "pear" from Taormina. |
We also indulged in Italian food during our stay in Taormina. One of the local specialties that we saw in every window was marzipan in the shape of fruit such as cherries, figs, pears, etc.. They were incredibly realistic, and we were amused when we went past one shop that had a notice of thanks signed by Bill Clinton. We bought a pear, and were amazed at the small details including a small bruise that had been painted on. However, they seemed to be more something to look at than something to eat as it tasted like pure sugar.
Another delicacy that we tried was sea urchin (both from the shell as well as stirred into pasta). Sea urchin is a favourite dish in Japanese sushi bars, so Hitomi and I were anxious to try the Italian version. However, probably our favourite Taormina dish was a pizza that had chunks of moist fire baked eggplant on top.
On our last day in Taormina, we decided to brave the Italian post and mail back a few of the books that we had been reading and wanted to keep. We might have thought twice about doing this if we knew what an epic it was going to be. When we reached the post office, we were directed to the parcel office out back, and as there were only three people in front of us, it seemed like it was going to be easy. However, the first person in line took about 15 minutes to finish their business. This clearly angered the two Italians in front of us who made no attempt to hide their exasperation and started shouting things while gesturing their hands up and down. Eventually, we made it to the front, and we too were presented with piles of forms to fill out. Each time we filled one out and passed it across, thinking we were done, another very similar form would be passed back to us to be filled out with the same information again. There must of been some organization to the postman's clutter, but seeing his desk randomly scattered with piles of paperwork from ours and other people's parcels interspersed with euro notes and coins of various denominations didn't give us a lot of confidence. To top off the experience, at one point a very pushy elderly local shoved in front of us. The man behind the counter told him that it wasn't his turn, and the guy turned around and looked at us and said in Italian "why should I wait for a bunch of tourists", thinking that we wouldn't understand what he said.
| | |
| --- | --- |
| | |
| Syracuse's Baroque church. | Interesting statue from the church. |
From Taormina, we took a train down to Syracuse. Syracuse was a major town of ancient Greece that rivaled Athens in its heyday, and was an opportunity to explore yet more Greek ruins. The first thing that we did on arrival in Syracuse was to wander over to the tourist office to find out information about the town. We easily procured a map, and then tried to find out information about how to get to Palermo ... the largest city on Sicily and our planned next stop. The woman in the office was very helpful, and proceeded to tell us where the bus stop was. She then explained about the busses and told us that there were no direct busses, but told us that we had to change busses in Catania. We were suspicious at this information, but listened on. She then handed us a timetable showing us the times when the busses would leave Catania for Palermo. We walked out of the office, and began to read over the timetable we were given. It was in Italian, but it was clear that it was a timetable for busses from Reggio DI Calabria to Palermo, and didn't go anywhere near Catania or Syracuse. The times that she had circled for us were in fact the arrival times for the busses in Palermo. Her other information wasn't much better either. The bus station was about 1.5km from where she circled on the map, and there were in fact several daily busses that went direct to Palermo. At least the map she gave us was accurate.
| | |
| --- | --- |
| | |
| The "Ear of Dionysius" ... a cave 23 meters high and 65 meters deep that the ancient Greeks quarried stone from. | A Greek temple that was converted into a church. The original columns were incorporated into the church structure, and can be seen in this photo. |
The old town of Syracuse is actually a small island with a maze of small streets, some beautiful fountains, and a few pretty churches. The most interesting by far was the duomo which was constructed on top of an old Greek temple. In fact, the columns from the original temple were mostly intact, and were built right into the walls of the church (see the photo above). Sicily is famous for its style of Baroque architecture, and the facade of the duomo is supposed to be a fine example with its ornate carvings, sculptures and columns.
| | |
| --- | --- |
| | |
| Greek temple in Syracuse. | Syracuse's Greek theater. |
Inland from the old town lie some ruins from the Greek times, so we took an excursion out to visit them. The highlight of the ruins was the Greek theater which was built right into the hillside and is still used for concerts during the summers. However, this was our 6th Greek temple in less than two months, so we were a bit hard to please. Another site we visited is a large cave complex called the "Ear of Dionysius". It is a partly natural and partly man-made cave as it was used by the Greeks as a quarry. Its name is due to the amazing acoustics inside.
After a couple of days in Syracuse, we began to plan out our next stage of the trip. We were originally planning to head to Palermo and then to take a ferry from Palermo to Napoli. However, we began to yearn to head up north, and instead opted on bypassing Palermo and taking a train direct from Syracuse to Napoli.
On our way to Sicily, we had figured out that there was no bridge connecting it to the mainland, so we were a little curious as to how the train made the journey. We were amazed when the train pulled out of the Messina station and drove straight onto a specially built ferry complete with tracks for parking half a dozen trains. We never even had to leave the train.
The train was quite busy, so we had to book first class to be able to reserve seats (first class train tickets are only a small premium above regular fares). The first class section, however, was not so busy although a few people did enter our cabin for short periods. The interesting thing about them was that almost every one of them didn't have a ticket, nor did they seem to have a train pass. When the conductor would walk by, they would start talking to the conductor rather quickly. After talking for almost a minute, they would give an exasperated look and would start to pull out their wallet. At this point, the conductor would say something and just leave. We never did figure out what the secret was for riding the train without a ticket.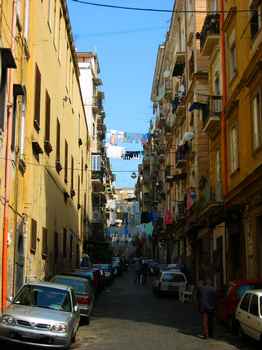 Street in downtown Naples, complete with laundry strung between the apartments.
We had reserved a hotel in Napoli near the train station, and while not a particularly nice area, it was very convenient to only have to walk a couple of blocks to find our hotel. Napoli is a busy and chaotic city, and the traffic is difficult enough to navigate without having luggage on your backs. The cars whiz around without any regard to pedestrians, or for that matter, even for red lights. While it was fun to walk around Napoli, I often found that the concentration required to keep myself from getting run over would leave me exhausted by the time that we reached our destination.
| | |
| --- | --- |
| | |
| Pompei fresco on display at the museum of Archaeology in Napoli. | Another Pompei fresco. |
On our first day in Napoli, we visited a couple of museums. The first was the Museum of Archaeology which contained relics that were retrieved from the cities of Pompei and Herculaneum which were buried by a volcanic eruption in 89AD and only excavated in modern times. The most amazing part of all of the exhibits were the mosaics that were almost perfectly preserved. From even a short distance, the quality of the mosaics was so good that they looked like a beautiful painting, and after Roman times, I think it wasn't until the Renaissance that the western world was able to come up with art that rivaled it.
| | |
| --- | --- |
| | |
| Statue of a man struggling to free himself from a net that I believe was carved from a single piece of marble. | Another amazing statue. It was named "modesty", although it isn't all that modest. |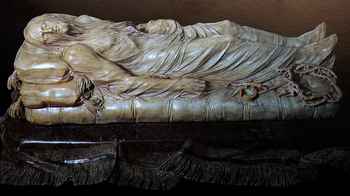 A statue of a dead Jesus draped in a veil ... click on it to see a larger version. It is the most incredible statue I have ever seen. The effect of a translucent veil is incredible.
Probably my favourite museum, however, was a tiny little place called Cappella di San Severo. It only has a couple of pieces inside, but the pieces include three of the most beautiful statues I have ever seen. One of the statues is of a man fighting to get out of a net that was amazingly carved from a single piece of marble. A second is of a woman covered by a thin veil that looked too real to have been made from marble. The third is of the dead body of Jesus covered by a thin sheet. It is absolutely incredible the way the sculptor managed to convey the effect of both a translucent sheet and the outline of the body underneath. The expression on the dead body's face is also very evocative. All three statues were completed by different artists around the year 1750.
| | |
| --- | --- |
| | |
| Pizza Napoli style. Very cheap, cooked in minutes, and the best pizza I have ever tasted. | Cooking pizzas at Napoli's famous "da Michelle" pizzeria. The pots on top of the oven that look like flower watering pots are actually used for pouring oil on the pizzas. |
Napoli is deservedly famous for its pizzas, and we visited a pizzeria on almost every night of our stay in Napoli. Our favourite by far was the Pizzeria da Michelle which has been in operation for almost 150 years. Its menu is simple with only two options: marinara (tomato and garlic) or margherita (tomato and mozzarella). The restaurant has huge line-ups during the prime eating hours (after 8pm). However, the shop is open from lunch through midnight, so we took advantage of the lull to have early dinners at 6ish or so. Once you told the waiter which of the two types of pizza you wanted, the pizza chef would whip them together within minutes. A second person would then take the pizza over to the pizza oven, and a couple of minutes later, a hot steaming pizza was plopped down in front of you. The best part about the pizza was the crust which was thin, soft, and melted in your mouth (a little similar to very good Indian nan). The toppings were also delicious with fresh mozzarella and an intensely flavoured tomato sauce.
Added entertainment was provided by the waiters and cooks who behaved like young school children. Between flirting with the women who walked in, they would joke with and yell at each other, sometimes chasing each other into another room.
One of our first excursions from Napoli was a ferry ride to the island of Capri. There were a lot of school kids that seemed to be taking field trips to Capri as well, and we were entertained in particular by one group of kids that were lead by a collection of short and stocky nuns. The most amusing part of it all was that the nuns seemed to be much more excited about the trip than the children were, and it was an interesting image seeing a nun dressed up with a baseball cap on her head.
| | |
| --- | --- |
| | |
| Some nuns leading some students on a trip to Capri's blue grotto. This is the exact same boat that we took on our first stage of the journey to the Blue Grotto. | Close up of two of the nuns. |
On arrival in Capri, we got off the ferry and hopped straight onto one of the boats that lead towards the famous Blue Grotto. There didn't seem to be a lot of tourists around, so we got onto our boat easily and were soon bouncing up and down on the surprisingly large waves that were battering into the cliffs of Capri. Once we reached the Grotto, our boat was greeted by a swarm of rowboats beckoning us all to take a leap of faith and hop over the edge and to try and hit their boat. This was not an easy task as the waves were very strong and the rowboats were much lower than the boat we arrived on. Once we manage to hop into our boat, we were rowed over to two ticket offices ... one for entry to the grotto, and one that collected the fee for our rowboat. Finally, the boats headed towards the entrance to the grotto, trying not to run into each other (and cursing each other when they did), and then waiting for the right moment to enter the cave. The top of the cave was only about a meter above the water, and when a big wave hit, the wave almost covered the entire entrance. Our boatsman waited for the right time, yelled for us to duck, and then pulled us into the grotto. Once inside, it was like being in another world. The color of the ocean was a turquoise blue like I have never seen before, and the colors lit up the entire cave inside. Since it wasn't too busy, we stayed inside the grotto for some time before being pulled back outside and being escorted back to our boat (of course, we were asked for a tip for this service).
| | |
| --- | --- |
| | |
| Waiting for our turn to enter the grotto. | Inside the Blue Grotto. |
If you have a fast internet connection and would like to see some videos of the Blue Grotto, please click on the following (note that video file formats may not play on all computers ... some may just get the sound but no images). The files are about 2meg each.
| | |
| --- | --- |
| | |
| The island of Capri. | Pompei with mount Vesuvius looming in the background. |
The Blue Grotto was the highlight of our visit to Capri, and we spent the next few hours just wandering around the main town before hopping on a ferry back to Napoli. Our next excursion was to the ruins of Pompei and Herculaneum ... two towns which were buried by lava in 89AD and have been since uncovered, revealing a largely intact version of what an ancient Roman town looked like.
| | |
| --- | --- |
| | |
| Body cast of a victim of Pompei. I believe the body was buried by lava and this cast was made by pouring plaster into the hole in the lava where the body had since dissolved away. | Frescoes from a Pompei villa depicting the rites of entry into the "Cult of Dionysius". |
We had visited the impressive Archaeological Museum in Napoli before our visit to Pompei, so it had prepared us a bit for what we were about to see. Many of the best mosaics and frescoes had been removed and stored in the museum, and we could now try and imagine what they must have looked like when they adorned the fountains and courtyards of the nobles houses in Pompei.
One of the first sites we visited was a Roman bathhouse. It was interesting to read about them, and realize how similar they are to the Turkish bathhouse that we visited a few months earlier. There were rooms with cold plunges, rooms with hot steam, and "tepid" rooms to relax in. The ceilings were carefully designed to carry condensation to the sides of the rooms rather than dripping down on the people below. The walls were decorated with statues and frescoes, and there was a complex system of pipes to carry water and steam to the appropriate rooms.
| | |
| --- | --- |
| | |
| Roman bath from Pompei. | Another room from the Roman bath. |
Another interesting room to visit was the Villa dei Misteri with its room full of frescoes depicting the bizarre initiation rituals of a woman into the cult of Dionysius. The frescoes are supposed to compose one of the largest paintings in existence from the ancient world. Probably the most impressive part of a visit to Pompei is just realizing what luxury some people lived in almost 2000 years ago. Large two story houses with courtyards, gardens, and fountains. Decadent bath houses. Plumbing and sewage lines running directly into the houses.
| | |
| --- | --- |
| | |
| Some Pompei frescoes on display at the "secret room" in the Napoli museum. | Beware of dog mosaic on display at the entry to one of Pompei's villas. |
From Pompei, we headed to the lesser visited town of Herculaneum. Herculaneum wasn't as big or as rich as Pompei, and as it seemed to have had better warning of the impending disaster, the villagers managed to escape with more of their possessions. However, as a tourist attraction, it has several advantages over Pompei. It has fewer visitors, is more compact, and more of its frescoes and paintings have been left in place, rather than being moved to the museum in Napoli.
| | |
| --- | --- |
| | |
| Mosaic from the woman's bath at the ruins of Herculaneum. | An incredible mosaic on-site at the ruins in Herculaneum. |
We spent several hours dodging the groups of noisy and chaotic Italian school kids and fighting off exhaustion before finally calling it a day and heading back to Napoli. It was a bit tiring seeing both sites in a single day, and I don't think we could have managed it in the summer heat.
| | |
| --- | --- |
| | |
| The ruins of Herculaneum with the modern town behind and Mount Vesuvius behind that. | Passing time on a train journey. |
We spent our last day back in Napoli just walking around, and killed a few hours in an very cheap Internet cafe that had Japanese fonts installed. As we left the cafe, we were greeted by a cold wind and afternoon showers. We weren't well prepared and became a bit chilled, but soon walked by a bar that had a big sign inside advertising its hot chocolate. I knew that it was taboo in Italy to order milk drinks after about 10am, but I figured we were tourists and with the cold and rain, a hot chocolate sounded really good. We walked inside and told the elderly man at the cashier that we would like two hot chocolates. I think that I pronounced everything correctly (including the right plural ending on chocolate), but the fellow was sure that he had heard me wrong. He looked at me in amazement, and asked me what I said. I repeated it, and he muttered the words to himself, before yelling over to the people at the bar asking them if it was possible to still make hot chocolate. Everyone at the bar kind of laughed but then nodded and proceeded to make us a couple of delicious hot chocolates. We laughed a bit to ourselves as we noticed that the bartender made extra and poured himself a cup.
| | |
| --- | --- |
| | |
| Orvieto's duomo. | Another view of Orvieto's duomo. |
From Napoli, we headed north to the city of Orvieto for a view of its famous duomo. While we were waiting in line at the train station, we were approached by a tall red-headed woman. She told us that she had been robbed of her purse while walking around (believable in Napoli), and it had contained all of her money and credit cards. She said she was Austrian and desperately wanted a train ticket to Rome to see her Embassy. While there is an Austrian consulate in Napoli, she said it was closed today (a Thursday). Normally I would have ignored her completely being sure that it was a scam, but something about her made me start to believe her. I thought about helping her out, but then parts of her story started to sound suspicious and I ended up turning her down. During my travels, I have met many con-artists that seemed to be sincere, so I was a little jaded. Afterwards, I wondered some more about her story. In my mind, one of the biggest holes in her story was the consulate being closed on a Thursday, although we later remembered that it was Italy's Liberation Day and almost everything was closed. At this point, I'm still not quite sure what I think.
| | |
| --- | --- |
| | |
| Some frescoes from inside Orvieto's duomo. | Emilia Romagna cuisine ... baked vegetables to be dipped into a baked brie-like cheese. |
On arrival in Orvieto, we barely managed to find a place to stay. After checking in and a bit of a rest, we walked around the pretty medieval town and headed towards the duomo. The facade of the duomo is incredible with its carved marble reliefs, statues, and gold mosaics. Apparently the duomo took 30 years to plan and over 300 years to complete. On the inside of the duomo are incredible frescoes including a chapel that Michelangelo studied before heading to Rome to paint the Sistine Chapel.
| | |
| --- | --- |
| | |
| Mosaic at Ravena. | Ravena's mosaics. |
We were planning on going to Florence next, and decided to try and reserve a room first. Finding a pay phone to use in Italy is itself a difficult exercise. There are payphones on every corner, but about one quarter of them just say "out of order" on their LCD screens. About another quarter of them refuse to read your phone cards. Of the remaining ones, you have to deal with issues like keypads that either don't work or insist on double typing any number you press, or on one occasion we had a phone that I could hear the other person talking, but he couldn't hear me. If you were very lucky, you could find an operational phone that wasn't in use.
Eventually, we were successful and proceeded to call all of the budget hotels in the Florence section of our guide book, and were turned down by each one. One woman who sounded like she was from England, said she thought all of Florence was booked up. We could have tried the tourist office and I'm sure we could have found something. However, since we had spent a week in Florence two years ago, we instead tried to find a room in Bologna. Again no luck. Our hotel in Orvieto also only had a vacancy for one day, so we began to get a little worried. However, we were successful in booking a room in Ferrara - a little to the north of Bologna. It was a good thing we booked ahead since it too was full when we arrived.
Ferrara is a pretty town in the province known as Emilia Romagna, and it is also a convenient base for visiting the nearby town of Ravena with its famed mosaics. Ravena was the capital of the Roman empire at one point, and then later the capital of the Byzantine empire. During this stage, large churches were built and adorned with beautiful mosaics. The most beautiful of the mosaics were those in the Basilica di San Vitale which were constructed around the year 550. The mosaics cover almost every square inch of the chapel depicting saints and apostles and scenes from the bible. We were entertained during our visit when a multinational group of nuns crowded through and sat and listened to a tour leader speak in some language that I didn't recognize. However, they were obviously from a variety of different countries given that many were carrying guidebooks such as English Lonely Planet books, French "Guide Routard" books, etc.
| | |
| --- | --- |
| | |
| Rialto bridge in Venice. | Basilica San Marco in Venice (notice there are more pigeons than tourists) |
On our last night in Ferrara, we headed to a restaurant that specialized in Ferrara cuisine. We had one of the best meals of our trip as we dined on cappelacci di zucca (pumpkin ravioli) freshly made by our hosts mother, and then had a second course of grilled vegetables accompanied by a piece of grilled cheese to dip the vegetables into, almost like a fondue. While we were eating, our host neglected his customers at various times to play his keyboard and drum machine and belt out hits from the 70's like "The Sounds of Silence" by Simon and Garfunkel.
| | |
| --- | --- |
| | |
| Gondolas for hire. | Gondolas on the Grand Canal. |
Our hostess at the hotel was never around much, and we tried to track her down to pay from the moment we returned from Ravena. She was never around, and the next morning at 9:00 as we prepared to leave, she was still nowhere to be found. We weren't sure what to do (we couldn't even phone her since she wasn't in the office), so we put our money wrapped in a little note and left it with our keys at the front desk. We tried to call several times during the day to ensure that she received the money, but never succeeded in reaching anyone. Hopefully she received the money and there won't be an arrest warrant waiting for us on our next trip to Italy :-).
We had more luck at finding a place to stay in Venice than we did in Florence, although only slightly. Most places were booked up, and the only option we were able to find involved spending a few nights in one room, and then changing to a different room on the third night.
| | |
| --- | --- |
| | |
| Wine by the liter. | Snack food ... bread, prosciutto, and fresh buffalo mozzarella. |
We had visited Venice for several days on our trip to Italy two years ago as well, but Venice is so unique that we really wanted to return. To make up for the price of our expensive room, we mostly self-catered during our visit. In Italy, this is not a bad thing as the delis have incredible cheeses, breads, and salamis, and we even found a local shop that sold bulk wine by the liter (about $1.50 for a liter of reasonable table wine).
| | |
| --- | --- |
| | |
| Gondola rider waiting for customers. | Taking a siesta. |
We passed our time in Venice just walking around the small canals, riding the public transport boats (vaporetti), and admiring the unique architecture and beautiful canals. On our last evening, we splurged on a dinner of pasta with squids ink and grilled sea bass.
| | |
| --- | --- |
| | |
| The grand canal with a vaporetto (Venice water bus). | Spaghetti al nero (with squid ink and pieces of squid). |
| | |
| --- | --- |
| | |
| The Doge's palace and Basilica San Marco as seen from the vaporetto. | Venice palace with its typical eastern influences. |
From Venice, we took trains over to the Emilia Romagna town of Parma which is famous for its parmesan cheese as well as for its prosciutto. The town itself was not particularly impressive, although it was refreshing to visit a town that was not overrun by tourism. The town center was very cute, and it seemed that the people of Parma valued eating a lot. Every block seemed to have a deli that was filled with not just meats and cheeses, but fresh pastas, sauces, marinated vegetables, pesto, and all sorts of pre-cooked treats.
| | |
| --- | --- |
| | |
| Parma cathedral - simple on the outside ... | ... but not on the inside. |
We had to visit a deli on at least one of our days, and definitely wanted to taste both the cheese as well as the prosciutto. Getting the prosciutto was easy enough, although when I asked for 100 grams of cheese the woman looked at me and said that it wasn't possible to cut a piece that small. She pointed to the huge wheel of very hard cheese to show why. She then showed me how small of a piece that she could cut, and I said that would be fine. Either I didn't look too closely, or she cut a bigger piece than she had indicated, because she handed over a 600 gram chunk of cheese. Luckily, parmesan keeps well, as we had enough to last us for a couple of weeks.
The one part of the Parma cuisine that I didn't acquire a taste for was their fizzy wine. At one of the restaurants that we visited, we just asked for a half liter of the "vino della casa". We were brought a pitcher of wine that when we first sampled it, it tasted like it had gone bad. We then realized that it was carbonated on purpose, and I remembered from a previous trip that it was somewhat common in northern Italy. I suspect that it would have been better chilled, however, served warm it just tasted a bit like grape flavoured Coca-Cola.
| | |
| --- | --- |
| | |
| Parma pasta ... Emilia Romagna is famous for its fresh pastas, and these were delicious (some with pumpkin, some with spinach ricotta, and some filled with potato). | Parma's famous cheese and prosciutto. |
The next stop on the tour was the town of La Spezzia which we would be using as a base for a visit to the Cinque Terre (Italian for "five lands"), a group of villages along the cliffs of a dramatic coastline and where cars are not allowed. The towns are linked together by a set of hiking trails that follow the cliffs, and the first section of the trail is known as "Lover's Lane".
| | |
| --- | --- |
| | |
| A bottle of "Stalin Wine". | Lover's Lane at the Cinque Terre. |
We started our hike at the southernmost town of Riomaggiore, and followed the Lover's Lane for a 20 minute stroll above the turquoise waters of Italy's "Costa Azura". The sea was quite rough during our visit, and the sounds of waves thundering into the coast added to the atmosphere. We soon arrived in the town of Manarola, a beautiful village of multi-colored houses linked together by steep staircases. We resisted the urge to enter one of the local focaccia (Italian bread) shops where the aromas wafting out kept trying to convince us that 10am was a good time for lunch. We followed the hiking trail out of town as it started to do a bit of climbing. After about 5 or 10 minutes of hiking, the trail was blocked and there was a sign indicating that the trail to the next village had been washed out. It would have been nice if they would have let us know that ahead of time :-).
| | |
| --- | --- |
| | |
| The Cinque Terre village of Manarola. | The Cinque Terre coast with the village of Corniglia in the background. |
We backtracked and checked out the hiking map. There was a hiking trail that detoured way up the cliffs and away from the ocean before heading down to the next town of Corniglia. Or ... we could just hop on a train and be at the next village in four minutes. We quickly convinced ourselves to try the train with the logic that we could always hike that section on the way back if we still had energy.
| | |
| --- | --- |
| | |
| Hiking the Cinque Terre. | Vernazza in the Cinque Terre. |
In Corniglia, we refreshed ourselves with a couple of glasses of dark-red orange juice made from delicious "blood oranges". Then, after a couple of wrong turns (and some friendly directions from a local who I think mentioned that we were just about to enter his backyard), we found our way back onto the hiking trail. While the Lover's Lane was a leisurely and completely level stroll, this part of the trail involved a rougher hike and a lot more climbing. However, it still had the same stunning views which made for a good excuse to stop and catch your breath.
After about an hour and a half or so, we arrived at Vernazza which was maybe the prettiest of the villages. The hiking weakened us to the point where we were no longer able to resist the focaccia shops, so we indulged in some freshly roasted breads topped with tomato and oregano or with pesto. We had our picnic on a bench in the middle of town where we were surprised to see the ocean's waves lapping right next to us from a cave that pierced right through the village. After an hour or so of walking around and questioning other travelers about the final section of the trail, we decided to call it a day. The last part of the trail was tough and less scenic, and the consensus was that the final village wasn't as pretty as the other four. Instead, we took the train back to Manarola so we could hike the Lover's Lane one more time, and then took a train back to La Spezzia.
Back in La Spezzia, we were there for the weekend, and our hotel was just off the main pedestrian street that was host to the local passeggiata. After our fun in Matera, we were anxious to participate once again. The street was packed, although the La Spezzia version seemed to involve mostly high school students, and wasn't nearly as entertaining.
| | |
| --- | --- |
| | |
| Grand building in Genoa's Piazza de Ferrari. | Genoa's duomo with its black and white marble stripes typical of the region. |
From La Spezzia, we headed north to the port town and former naval powerhouse of Genoa. The cuisine of Genoa is famous for its pesto and its focaccia, so we made sure that we sampled a lot of both during our 3 days here. The focaccia comes in many different flavours, and one of our favourites was the variety with sweet grilled onions on the top. Another favourite was a very thin focaccia covered in a gooey mozzarella like cheese and served fresh from the oven. It wasn't too hard to track down, as there seemed to be a focacceria on every street corner.
Between visits to focaccerias and pasta shops, we found some time to explore the rest of the city. We saw an exhibit in the Palazzo Ducale that included a bunch of paintings from St. Petersburg's Hermitage museum (where we will be headed in a few months time). We also visited an oriental museum that had a good collection of Japanese wood block prints that I enjoyed very much. The old town of Genoa with its very narrow and twisty streets was also an easy way to kill an afternoon.
| | |
| --- | --- |
| | |
| Fresh pasta with pesto ... a specialty of Genoa. | Duke's palace in Genoa. |
On our last morning in Italy (May 9th), we made sure to head to a local bar and sample one last cappuccino We really enjoyed our four weeks in Italy, and it was a little sad to be leaving it behind. However, we are now in France and it is hard to feel too bad about that. We will be spending the next two to three weeks in France and Switzerland before crossing the Channel and visiting England in early June.
Ron & Hitomi
p.s. Note that you can click on most of the photos above to see a larger version of the photo.
(Click here to go back to www.rangda.com, or here to go back to www.rangda.com/travel/ron)