Hello,
It has been a LONG time since I have written, and I suppose the good thing is that it means that Hitomi and I have been busy enjoying our trip. I last wrote about the travels in Italy which ended in early May (two months ago). Since then, we have travelled through France, Switzerland, England, Belgium, Holland, Germany, Denmark, and are currently (July 14) in Oslo, Norway getting ready for our trip into the western Fjords and then up far past the Arctic circle.
Our laptops have been nice to have along for things like looking at the digital camera photos and writing web pages like this one, although the backpack has been getting very heavy recently (too many guidebooks). We decided that we are going to try and mail home the computers from Norway to lighten the load and to give us one less thing to worry about as we start our travels in Russia, China, and India. I wrote this trip report in two sections. After this trip report, I will be stuck with writing them in internet cafes, so they will come out intermittently and most likely without photos from now on. This trip report was written in a bit of a rush, so it not really my usual travel journal, but instead is more of a photo album with a few descriptions thrown in.
Anyway, back to the travels. As we left Genoa and headed to Nice, it was a relief to be somewhere where I understood at least a little bit of the language. As it was near the time for the Cannes film festival, hotels were a bit hard to come by. However, with a bit of phoning around we eventually found a reasonably priced room in the center of town. We had some bad luck with some severe storms that rolled through, although we enjoyed some great food and had some nice side trips to Cannes and Monaco. The storms also made the waves along the shore more interesting. Even though the pedestrian walkway along the shore was about 8 meters above the water level, the waves were still crashing well over, soaking the pedestrians and even the cars that drove by.
| | |
| --- | --- |
| | |
| Watching the waves crash at the French Riviera. | A Russian church in Nice. |
| | |
| --- | --- |
| | |
| In Cannes right before the Cannes film festival. | Looking down over Cannes. |
| | |
| --- | --- |
| | |
| I thought it was a misprint, but there was indeed a 3-hour wait to buy train tickets. And this was in May!!! | A view of Monaco. |
From Nice, we took a long train journey up to Grenoble where we stayed with our friend Jean Christophe. This began a stretch of about two weeks of staying with friends. Since we lived in Grenoble for a while, we knew it well. However, it brought back some very fond memories to be in Grenoble again, and I did have some admin to do ... I needed to close out my French bank account. Of course, things never work out as planned, and when we visited the bank, we were told that it was going to take 10 days to get our money. Our schedule, of course, didn't have us staying in Grenoble that long. Thankfully, Jean Christophe came along with us to the bank and managed to talk the delay down to four days. This was how long we were intending on staying in Grenoble, so we were able to pick up our money right before we left town.

Back in Grenoble ... here is a view of the city and the backdrop of mountains.
| | |
| --- | --- |
| | |
| From Grenoble looking towards Mont Blanc. | The cable-car in Grenoble. |
| | |
| --- | --- |
| | |
| Spring Irises. | A delicious dinner of French crepes. |
From Grenoble, we took a train into Switzerland where we met up with our friends Oscar and Silvana. Silvana was 8 months pregnant at the time, but they still graciously invited us to stay with them for a few days. They were in the process of taking ownership of a large house on Lake Geneva, and a few of the tenants had just moved out. We were given the honor of being the first guests in a very beautiful apartment that they had just renovated. Besides enjoying views of Lake Geneva, we also did a day trip to the nearby "Grottes de Vallorbes" which is a spectacular cave complex complete with stalactites and an underground river.
| | |
| --- | --- |
| | |
| Meeting up with friends ... Oscar and Silvana in Morges (near Lausanne) Switzerland. | Oscar and Silvana's house they just bought (and we were the first guests). This photo was taken standing on the shore of Lake Geneva. |
| | |
| --- | --- |
| | |
| A couple of previous tenants of Oscar and Silvana's house ... two tortoises that live in the gardens. | Lake Geneva |
| | |
| --- | --- |
| | |
| The Grottes de Vallorbes in northwest Switzerland near the French border. | Standing where it used to be under water. |
| | |
| --- | --- |
| | |
| Long thin stalagmite. | Underground river. |
From Switzerland, we took the TGV into Paris where we met up with our friend Yuria who lives in a nice section of the 14th arondisement including the best bakery that I have ever visited. A little worn out from our travels, we enjoyed 10 days in Paris of just relaxing, eating good food, socializing, and walking around Paris. Our one side trip was a return visit to Versailles.
| | |
| --- | --- |
| | |
| The Parthenon in Paris, France. | Relaxing on a warm spring day in the Jardin du Luxembourg. |
| | |
| --- | --- |
| | |
| Enjoying a delicious fish lunch with our good friend Yuria. | Notre Dame. |
| | |
| --- | --- |
| | |
| The Eiffel Tower | The private chapel in the Palace of Versailles. |
| | |
| --- | --- |
| | |
| Statue from the Palace of Versailles. | Painting from the Palace of Versailles. |
| | |
| --- | --- |
| | |
| The grand "Hall of Mirrors". | A statue in the garden of Versailles with the palace in the background. |
From Paris, we had planned to head up to Normandy to see Mont St Michel and then to take a ferry across the Channel. However, there was one complication. Our year's travel plans include a trip on the Trans Siberian railway from Moscow to Beijing. While getting visas to visit Russia is a lot easier than it used to be, it is still a complicated and lengthy procedure which involves getting a document from a hotel in Russia and then waiting a week to get the visa. We couldn't have done it ahead of time since the visa expires after three months, and we would be visiting Russia on the 5th month of our trip.
To make things worse, the trans-Siberian trains often fill up which makes it difficult to just wing it during August. One option is to get a package tour, although we didn't consider that one for very long as it is extremely expensive (about $150 per day per person). There is, however, an intermediate option. You can have a travel agency book your hotels and train tickets, get your visa, and then leave you free to work out all of the other arrangements. You don't pay a premium on the hotel rooms (although you are required to book more expensive hotels than we might have stayed in otherwise), but the train tickets include about a 50% premium doing it this way. Normally the process takes about 4 weeks to get all of the visas and reservations. Since we weren't staying in any one place that long, this again complicated things.
We called a travel agency in London, and they said that they could get our Russian visa and train tickets for us in two weeks, and that we could get the Chinese and Mongolian visas on our own. This sounded like a good deal to us, so we changed our plans to start and end our England trip in London. We bought tickets on the Eurostar which heads under the "chunnel", and since Eurostar pricing is like an airline (round trip tickets are cheaper than one-way), we opted to return to Paris where we would take a high speed train to Brussels. Booking in advance, the Brussels trip was very cheap (50 euros for a return ticket of which we would throw out the return segment).
On arrival in London, we headed straight to the travel agency to fill out the paperwork and to drop off our passports.
Having taken care of our admin, we spent four days in London enjoying the "Golden Jubilee" celebrations. We were in London on a four-day weekend where the 50th anniversary of Queen Elizabeth's reign was being celebrated. We left London before the climax of the celebrations, but did enjoy some free concerts in Hyde Park. We also visited the Tower of London, and managed to get some great last-minute seats to see a fun performance of Disney's Lion King.
| | |
| --- | --- |
| | |
| Our "beef-eater" tourguide at the Tower of London. | The river Thames with Big Ben and the British Parliament in the background. |
| | |
| --- | --- |
| | |
| A theater where Hitomi and I watched the Lion King. | Fish 'n Chips. |
| | |
| --- | --- |
| | |
| The Tower Bridge. | Lord Trafalgar presiding over his square. |
From London, we spent a couple of days each in Cambridge and Oxford. It was exam time, so there were a lot of nervous studying students as well as a lot of students rambunctiously celebrating the end of their exams. The old campus buildings and their meticulous gardens were fun to stroll around, and we had a fun diversion one night at a "Sing-a-Long" version of The Sound of Music. Probably the biggest drawback was that we were getting tired of heavy English breakfasts with their cold toast, canned beans, and grilled ham and bacon.
| | |
| --- | --- |
| | |
| Hitomi nervously watching Japan play Belgium in the World Cup. We really got interested in the World Cup, and didn't miss a single Japan game. | Kings College in Cambridge. |
| | |
| --- | --- |
| | |
| Punting in Cambridge. | Another view of Kings College. |
| | |
| --- | --- |
| | |
| A street in Oxford. | College grounds. |
| | |
| --- | --- |
| | |
| Nooses in the window ... it was exam time while we were in Cambridge / Oxford, and I suspect these were done by nervous students. | A rose from an English garden. It seemed that we picked a good time to visit England for the gardens (if not for the weather), and the roses were beautiful everywhere. |
From Oxford, we headed up to Coventry where we met my parents who had just finished a bus tour around the British Isles. We picked up a rental car that my parents had reserved, and I nervously tried to figure out how to drive on the left side of the road, and how to shift with my left hand. Once we left Coventry and got into the countryside, things were much better, and in not too long we arrived at our Cottage in the middle of the Cotswolds. We were pleasantly surprised on our arrival as the rates were reasonable, and it was a beautiful cottage complete with a kitchen, a nice bathroom, two bedrooms, and a beautiful garden in the back.
The weather wasn't great for our week long stay (apparently June was one of the wettest on record for England), although it didn't get in our way too often. Hitomi and I were glad, however, that we didn't stick to our original plan of doing a week long hike of the Cotswold Way. Instead, we hopped in the car during the dry spells, and did quite a few day hikes including a few portions of the Cotswold Way.
We also did quite a few daytrips to nearby towns, and also to Stonehenge and the town of Cheddar which is the birthplace of the famous cheese. When we talked to the head-cheesemaker at the only cheese factory in Cheddar, we were amused to find out that his wife's cousin is the mayor of Edmonton. He took a liking to us, and explained a lot of details about the cheddar making process (including how what people think of as cheddar today is actually quite different than the original as the process has been changed for mass production). The town of Cheddar's cheese did indeed taste quite different, and was very sharp and reminded me more of a pungent French cheese than what I am used to as cheddar.
| | |
| --- | --- |
| | |
| Our vacation cottage in the Cotswolds (our rental car is in the foreground, and the actual cottage we stayed in is behind the main house). | The fields behind our cottage. |
| | |
| --- | --- |
| | |
| Walking along a bridge through the duck pond. | Feeding the ducks. |
| | |
| --- | --- |
| | |
| Relaxing inside our cottage. | A welcome change for Hitomi and I ... we could actually cook our own dinners. |
| | |
| --- | --- |
| | |
| Hiking in the Cotswolds along the public foot-paths. | Cotswold countryside. |
| | |
| --- | --- |
| | |
| A Cotswold "kissing gate". | Mom and Dad enjoying their hike. |
| | |
| --- | --- |
| | |
| A typical Cotswold house. | Another typical Cotswold house with its thatched roof. |
| | |
| --- | --- |
| | |
| An architect with a sense of humour ... this is a church gargoyle. | Local beer festival. |
| | |
| --- | --- |
| | |
| Cheddar cheese. | The making of cheddar cheese. |
| | |
| --- | --- |
| | |
| Hardening the arteries with an English tea set complete with cakes, scones, and clotted cream. | Wells Cathedral. |
| | |
| --- | --- |
| | |
| Stonehenge. | An amusing English sign. They need some of these for Paris. |
| | |
| --- | --- |
| | |
| A watermill in a Cotswold village. | Relaxing after our dinner at the "Owlpen Manor". |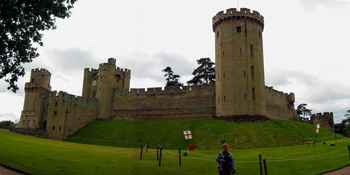 Warwick Castle.

Looking down on Warwick Castle.
| | |
| --- | --- |
| | |
| Hitomi in the stocks. | An interesting door to a church with two trees growing right into the sides. |
After our week in the Cotswolds, we took our car back to Coventry where we hopped on a train to London. We enjoyed a couple of more days with my parents in London before we said good-bye on the "tube" station as my parents headed towards the airport and Hitomi and I headed to the travel agency to pick up our passports. Good-bye's are always said, but at least saying good-bye on the tube meant for a short good-bye.
We spent one last day in London before heading back on the Eurostar and under the "chunnel" to Paris.
Ron
| | |
| --- | --- |
| | |
| The English celebrating their victory over Denmark. | A practical joker had some fun with this sign, although it did seem to typify the English during their World Cup euphoria. |
| | |
| --- | --- |
| | |
| Big Ben and the Parliament at night. | Saying goodbye to my parents. |