First ... the story.
Hitomi and I have been dating since March 29, 2000 (click here to see more). We are going to be leaving France to move to America on Dec 8th, so we decided to celebrate our 8-month anniversary (Nov 29th) and say good-bye to France at the same time. We chose to have dinner in Lyon at one of France's most famous restaurants ... Paul Bocuse. The restaurant is rated by the prestigious Michelin guide as being a 3-star restaurant of which there are only 22 in all of France. Grenoble itself doesn't even have a restaurant with a single star.
Lyon is an hour and a half from Grenoble by train, and since the restaurant doesn't open until 8pm, we decided to spend the night in a Lyon hotel. While the restaurant is actually in a small village that is kind of a suburb of Lyon (Collanges au Mont d'Or), we decided to stay at a cute hotel in the center of Lyon called Hôtel Des Artistes. The hotel is located in a part of Lyon called "Presqu'Iles" which literally means almost an island. It is so named because it is a narrow piece of land that is surrounded by the two rivers Saône and Rhône, and it almost seems like an island. This part of Lyon is the historical center, and therefore has the most interesting buildings. It is also one of the busiest shopping areas of Lyon.
We arrived in Lyon in the early evening with basically just enough time to get dressed up for dinner and go for a short walk. Here is a picture of us in the hotel room and also a view of the theater just outside the hotel room.
The drive from the hotel to the restaurant was a little bit of a long one, so we had plenty of time to talk with our taxi driver. He was very friendly, and the conversation started with him teaching me how to correctly pronounce Paul Bocuse's name. He said that Paul Bocuse likes his name very much, so it was very important to pronounce it right. He said that we would understand what he meant later. The drive to the restaurant was very pretty as it followed the Saône the whole way. As we approached the restaurant, there were actual traffic signs for the restaurant making sure that you didn't make the wrong turn, and it was very obvious when you arrived at the restaurant ... check out the pictures of the outside.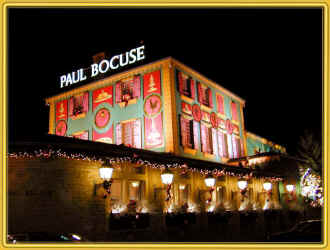 When we arrived at the restaurant, we were greeted by a very friendly doorman who quickly showed us to our table. We started the dinner with an aperitif of a glass of port, and had a quick toast in honour of the great time we spent in France, and to wish ourselves the best in the coming year. Here is a photo.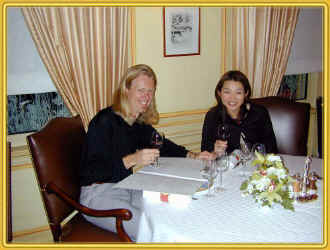 Along with the port, we looked over the menu. There were two full menus that both sounded very good, but we ended up choosing the menu called "Autumn 2000". Here is what the menu included (you will need to click on it to see the big version in order to be able to read it):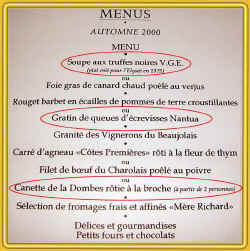 The items in red show our choices for the parts of the menu where there were multiple selections. The translation of what we ordered is basically the following:
Black truffle soup in a puff pastry (taste of the pastry was similar to a croissant)

Crayfish tails in a bisque sauce (very rich and very delicious)

Beaujolais sorbet with cassis

Duck for two roasted on a spit

Selection of cheeses

Dessert
More information on the food will follow.
After ordering our dinner, the sommelier came and asked us for a wine selection, and helped us choose a delicious Burgundy wine (Côte de Nuits). Soon the wine arrived, and it tasted good from the start and we were told it would be much better after it breathed for a few minutes. Hitomi and I started another toast, and as our heads neared each other, I asked her if I could ask her a question. Hitomi smiled and said sure and appeared to be ready for me to make some sort of a joke or something. I then asked her if she would marry me. Hitomi was quite shocked at first, then asked if I was serious, and then she told me YES! It was quite emotional and she started to cry a little. We had a drink of our wine and tried to enjoy the moment.
Soon our truffle soup came, although emotions were riding so high that we didn't touch our soup for some time (which was just as well because it was very hot). We discussed a little bit about when and where, and are currently leaning towards end of 2001 or early 2002 with a wedding in Hawaii (sort of in the middle between North America and Japan, and a nice place to visit to make the long journeys worthwhile).
I helped Hitomi wipe off her smudged make-up, and we collected our nerves enough to start enjoying our meal.
The truffle soup was delicious, and as we were enjoying our food, Paul Bocuse walked around the restaurant to greet his customers. As the dinner progressed, we began to understand what the taxi driver meant when he said that Paul Bocuse likes his name very much. Absolutely everything seemed to have his name on it. Paul Bocuse silverware, Paul Bocuse plates, Paul Bocuse glasses, and when you finished your bowl of soup, there was his name as well of a picture of him smiling back at you. Here are some photos of us with Monsieur Bocuse:
The dish that you can see us eating in the photo is our second dish ... the crayfish tails in the bisque sauce. After we finished the crayfish, we "cleansed our palate" with the sorbet, and then waited for our duck. The duck came out as an entire duck which was then carved at our table. Thin slices of the breast were carved up and placed on plates along with some green beans sauté